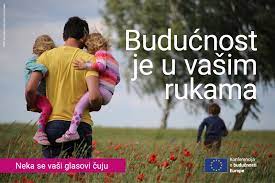 The conference of the future of Europe for ED Karlovac is the topic of all topics.
It is a major pan-European democratic project, during which citizens have the opportunity to decide how the European Union should develop and what its priorities should be. The Conference on the Future of Europe is in fact a series of debates led by citizens, and will allow people from all over Europe to share their ideas and contribute to shaping a common future.
An integral part of the Conference is a multilingual digital platform on which citizens can exchange ideas, connect, propose solutions, changes and initiatives and various activities. The platform is conceived as a new form of citizen participation in political decisions that affect the whole of Europe, and the opinions gathered in this way will be used in policy-making and determining the future direction of the EU. The platform is available in 24 languages ​​and can be accessed at: futureu.europa.eu.
In addition to panels and discussions, citizens will be able to participate in the work of the plenary assembly, in which 108 seats have been reserved for them. An equal number is intended for representatives of national parliaments and MEPs. The plenary assembly will be attended by another 54 representatives of the Council (two seats for each member state), three members of the European Commission, and representatives of the Committee of the Regions, the European Economic and Social Committee, the social partners and civil society. In this way, an inclusive and transparent discussion with citizens on a range of priorities and challenges is sought.
ED Karlovac plans to promote these ideas and encourage citizens to get involved in discussions during the Conference on the Future of Europe, because it is a project that highlights the ideas and initiatives of European citizens from all segments of society and all parts of the Union. play a central role in shaping the future of the European project.
Therefore, ED Karlovac plans to organize a literary competition in primary and secondary schools, where they would write about how they see themselves, their county and Europe in the coming period. The goal is for the information that there is a digital platform on which citizens can discuss and present their proposals to as many people as possible.
Because, the Conference on the Future of Europe is the largest deliberative democracy project in history. Through a structured and transparent process, citizens can directly influence the creation of European policies and thus decide what kind of Europe they want, instead of being involved in decision-making only once every five years - when elections to the European Parliament are held.
You can tell us your opinion on https://futureu.europa.eu/