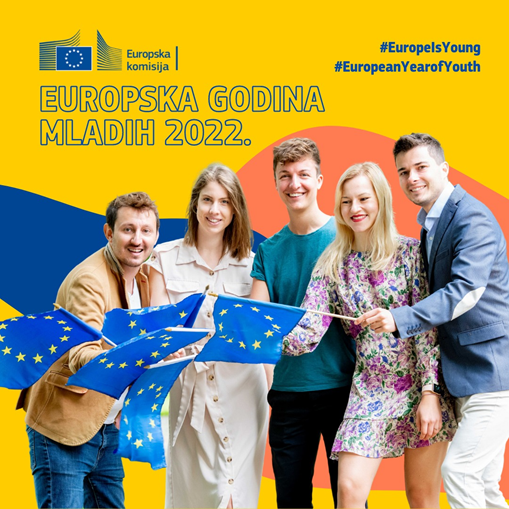 On October 14th 2021 the Commission has adopted a formal proposal for 2022 to be declared the European Year of Youth. Europe needs a vision, involvement and participation of all young people in building a better future – future that is greener, more digital and more inclusive.
The Commission is currently developing its program of activities and intends to invite all stakeholders to contribute their ideas and suggestions. In the coming days, a survey will be launched on the youth portal for this purpose. The Commission, together with other EU institutions, Member States, civil society organizations and young people, will organize a range of activities throughout the year to consider new initiatives. These activities will cover the issues that occupy young people the most, in line with the priorities set out in the youth objectives, such as equality and inclusion, sustainability, mental health and well-being, and quality employment. Young people from outside the EU will also take part in them.
The Commission is inviting all Member States to appoint a national coordinator to be responsible for organizing their participation in the European Year of Youth.
Events and first activities should start in January.
The European Year of Youth will be closely linked to the successful implementation of the NextGenerationEU instrument, which will open up new perspectives for young people, including quality jobs, education and training opportunities for the future Europe, also, youth participation in society will be supported.The European Year of Youth will seek to achieve synergies and complementarities with other Union youth programs under different policies.
EU Youth Strategy 2019-2027 is a framework for cooperation in the field of youth policy. It supports the participation of young people in democratic life and seeks to ensure that all young people participate in society.
Finally, the Conference on the Future of Europe, which will also draw its own conclusions in 2022, is an opportunity to hear the views and opinions of young people. Young people also make up a third of the participants in European Citizens' Panels and panel representatives at the plenary assemblies of the conference, in which the President of the European Youth Forum also participates.
Source: https://ec.europa.eu/croatia/news/commission_kick_starts_work_to_make_2022_the_european_year_of_youth_hr